Han Zheng Meets with Speaker of the Slovak National Council Boris Kollár
2023-04-19 23:25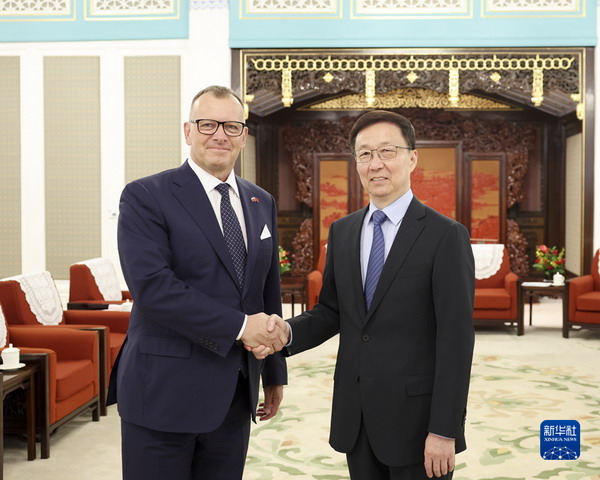 On April 19, 2023, Vice President Han Zheng met with the Speaker of the Slovak National Council Boris Kollár in Beijing.
Han Zheng said that the traditional friendly relations between China and Slovakia have seen steady development, and bilateral exchanges and cooperation in various fields have grown from strength to strength. China is ready to work with Slovakia to carry forward the friendship, consolidate the political foundation of bilateral relations, and properly accommodate each other's core interests and major concerns on the basis of mutual respect, mutual trust, treating each other as equals, and win-win results, so as to create a favorable political atmosphere for the sustained and sound development of bilateral relations. Han Zheng noted that both sides need to deepen cooperation, strengthen the bond of common interests, and continuously enhance and enrich bilateral cooperation. The two countries also need to work tirelessly to promote people-to-people and cultural exchanges to deepen friendship between the two peoples, and work jointly for the sound and steady development of China-EU relations and the cooperation between China and Central and Eastern European countries. Han Zheng also briefed Slovakia on China's economic and social development.
Boris Kollár said that Slovakia attaches great importance to developing friendly relations with China, and hopes to strengthen bilateral cooperation in various fields including economy, culture, people's livelihood, transportation and logistics, and deepen exchanges between the legislatures, to promote the development of bilateral relations.